Establishing optometric education and research
Rune Brautaset has modernised optometry studies at KI and laid the groundwork for an optometric research environment at the university. He is currently researching how neurodegenerative diseases can be detected in the retina.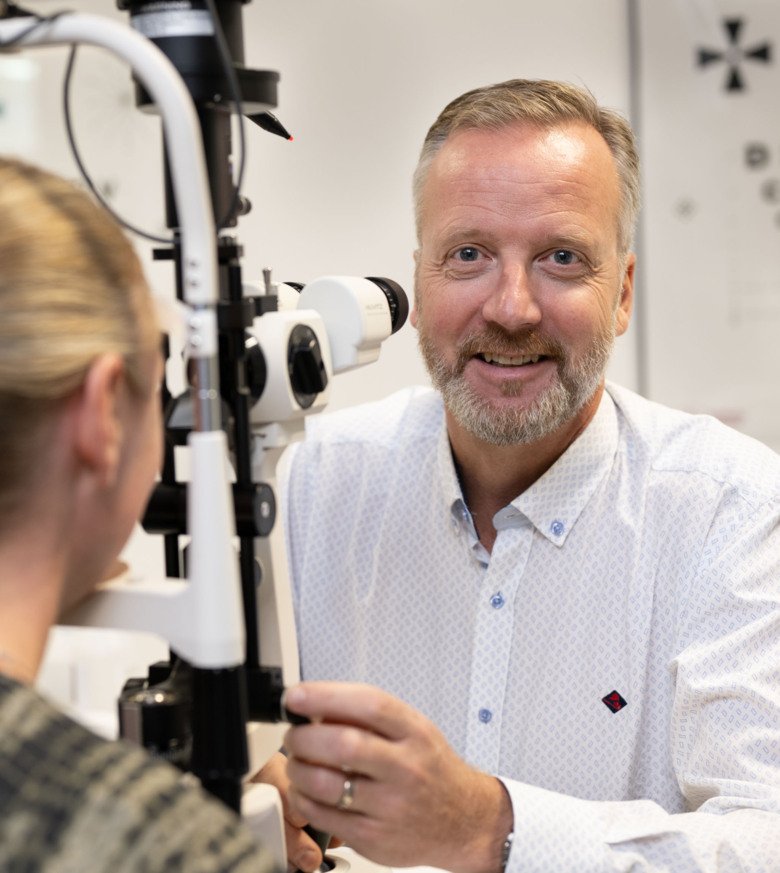 Rune Brautaset is professor of optometry. Photo: Ulf Sirborn.
What do you do? 
"The most important contribution I've made to Karolinska Institutet has been the establishment of a modern academic optometry programme, a master's programme in clinical optometry and an optometric research environment. I was the first optometrist with a PhD in Sweden and have supervised ten doctoral students to graduation. I also work with educational issues more broadly, including on KI's Committee for Higher Education." 
And your research? 
"My earlier research was on binocular vision – that is, how visual signals from the eyes are integrated into a single image in the brain – and related problems. I then turned to the relationship between function and structure in the eye, and how the problems experienced by the patient relate to the tissue lesions that we can register in the eye with our instruments. This particularly concerns optical coherence tomography, OCT, which has become a powerful tool in clinical eye research in recent years. 
My current research includes how OCT can be used to monitor multiple sclerosis. Our visual neurons are measurable on the retina, which is where the ocular nerve damage caused by MS also occurs and, as we've shown, can be reliably measured. Hopefully our research will give rise to simpler routines for monitoring the disease. We'll be subsequently using the same principle for other diseases such as Alzheimer's. 
Another arm of my research concerns glaucoma, and here I'm leading a randomised clinical multicentre study investigating whether vitamin B3 can protect against this disease, which is one of the most common causes of blindness." 
What would you like to achieve as a professor? 
"I want to carry on driving the development of KI's optometry programmes and help grow the professional roles in Sweden. An important part of this involves promoting the interprofessional collaboration between optometrists and the rest of the healthcare sector." 
Text: Anders Nilsson, in translation from Swedish
First published in the booklet 'From Cell to Society 2022'
About Rune Brautaset  
Professor of Optometry at the Department of Clinical Neuroscience  
Rune Brautaset was born in Arendal, Norway, in 1973. He studied optometry at Buskerud University Collage, Kongsberg, Norway and the University of Manchester Institute of Science and Technology, UK, graduating in 1998. He earned his PhD at the latter in 2003. Brautaset has been active at KI since 2000, initially as senior lecturer in optometry and later as researcher and leader. He headed up the optometry unit from 2004 to 2018 and was director of the optometry programme from 2005 to 2016.  
Brautaset was made docent in 2008 and is currently head of the Department of Clinical Neuroscience's Eye and Vision division. 
Rune Brautaset was appointed Professor of Optometry at Karolinska Institutet on 1 September 2021.