Developing online CBT for somatic diseases
Brjánn Ljótsson researches cognitive behavioural therapy , CBT. He has helped to develop and establish online CBT, and researches how CBT can improve the lives of people with physical disease.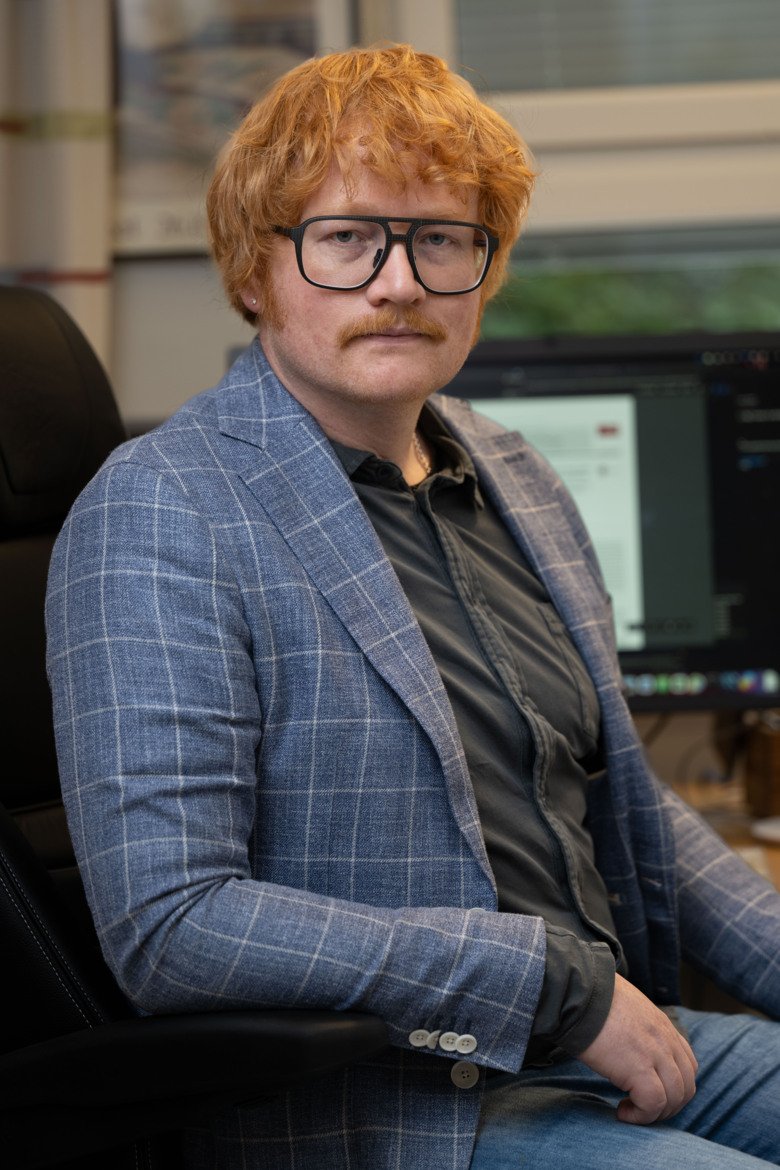 Brjánn Ljótsson is professor of clinical psychology with a focus on somatic care. Photo: Stefan Zimmerman
What are you researching? 
"I'm a psychologist and research cognitive behavioural therapy, or CBT. One line of my research is the development and evaluation of online CBT, another concerns how somatic – or physical – disease that is chronic and painful, or that severely restricts the patient in other ways, can be alleviated with CBT." 
How far have you come? 
"Internet-based cognitive behavioural therapy, or iCBT, has quickly become an established and effective part of healthcare. I was involved in the founding of Internet Psychiatry in Stockholm in 2007 and it's been great to be part of this development as a clinician and researcher. There are many advantages of iCBT for both patients and the care services, and at a group level the results are just as good as for conventional CBT. Currently, our research in this field has focused in part on examining at which point in therapy contact with human therapists is or is not needed. 
As regards somatic diseases, I've had time to develop a complete iCBT package for IBS that's now used in regular care. It's showing positive effects, both on the patients' everyday lives and on the symptoms themselves. We're now working with similar therapies for fibromyalgia and atrial fibrillation, and interestingly, we're seeing the same double effect there, too. One possible reason for this is that the disease becomes less manifest when life is filled with more attention-demanding content." 
What does the future hold? 
"We want to bring our ongoing projects to completion and convert them into new treatments, and to expand and develop CBT for other physical diagnoses. In the more immediate future, it'll be other forms of heart disease and patients who have had a myocardial infarction. We're also looking at rheumatism and other chronic diseases. Eventually, I'd like to include experimental lab research in my research group." 
Text: Anders Nilsson, in translation from Swedish
First published in the booklet 'From Cell to Society 2022'
About Brjánn Ljótsson 
Professor of Clinical Psychology with a focus on Somatic Care at the Department of Clinical Neuroscience 
Brjánn Ljótsson was born in 1978 in Reykjavík, Iceland, and raised in Järna, Södermanland. He studied psychology at Stockholm University, graduating in 2005. He gained his psychologist licence in 2006 and was a clinical psychologist at Region Stockholm from 2005 to 2011 and Aleris Sabbatsberg from 2008 to 2012. 
Since 2011, Ljótsson has taught and researched at KI, including the development of iCBT software. He earned his PhD in 2011 and was made docent in 2014. 
In 2013, he was awarded the prize for junior researchers in psychology from the Swedish National Committee for Psychological Sciences. 
Brjánn Ljótsson was appointed Professor of Clinical Psychology with a focus on Somatic Care at Karolinska Institutet on 1 July 2022.